[Communication received on January 26th, 11:26am]
Beginning on Friday, January 22,  Denver Health has made it easier for the community to sign up and register to get their COVID-19 vaccinations. We launched an online, COVID-19 vaccination registration form on DenverHealth.org as well as a vaccine registration hotline where individuals, who are not current Denver Health patients, can indicate their interest in receiving a vaccination when their priority group opens-up and doses become available. The form is available at https://www.denverhealth.org/covidvaccine.
As you may recall, last week Governor Polis asked hospitals and health care providers around the state to make it easier for people to sign up to get their vaccine. The goal is to get as many people as possible, in the eligible priority groups, access to the vaccine. Our teams have been working extremely hard to make this a reality for our community.
We continue to ask our community for patience as vaccine doses are limited at this time and we cannot guarantee when vaccines will be made available to each priority group. In our messaging to the public, we are also communicating that submitting the registration form online or through the hotline is not a scheduled appointment and does not guarantee someone a vaccine as doses are limited by availability.
Denver Health continues to follow state guidelines and is currently focusing on vaccinating those in the first tier of eligibility including our frontline and essential workers, first responders and patients ages 70 and older.  To date, Denver Health has assisted in vaccinating 400 community partners and 3,625 patients in the 70 and older group with their first dose of vaccine.  Additionally, 405 first responders and 22 community partners have received their second doses.
The COVID-19 vaccine registration phone line is 303-436-7000. It is monitored Monday through Friday from 7 AM – 6 PM. A call center representative will collect vaccine interest registration information to add members of the public to the vaccine wait list.
Denver Health is aware that there is great demand for COVID-19 vaccinations, and we are working hard on plans to make it easier for everyone to have access to them as soon as possible. Getting a COVID-19 vaccine is free. For more information about the COVID-19 vaccine, please visit our information and FAQ https://www.denverhealth.org/patients-visitors/coronavirus.
**To be clear, our current Denver Health patients should not sign up through this COVID-19 Vaccine Interest Registration Form. We will continue to reach out to our patients through MyChart, email, by phone and our normal processes to get them scheduled for appointments when their priority group becomes eligible. Once invitations are sent, patients can still schedule an appointment through MyChart or through the Denver Health appointment center at 303-436-4949.
Denver Health Staff Vaccination Numbers
5,800 employees and residents have received their first dose of vaccine.
3,444 employees and residents have received their second dose of vaccine.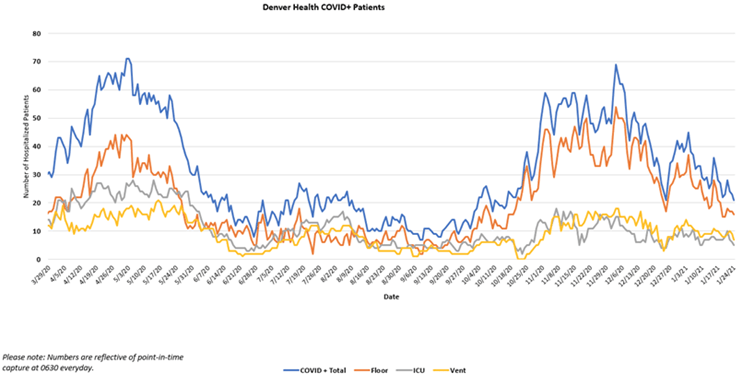 Providers Now Have Ability to Order a COVID-19 Vaccine for Vaccine-Eligible Patients
In accordance with current State guidance, Denver Health continues to vaccinate healthcare workers, public safety partners, and those who are 70 years and older. Any patient who is at least 70 years old and has been seen in the Denver Health system within the last 3 years is automatically able to schedule a vaccine appointment; an order is not required for this age group.
As of today, outpatient, ED/urgent care, and inpatient providers have the ability to order a COVD-19 vaccine for patients who are not in the 70 and older group but who meet current State eligibility criteria (e.g., a patient who is a healthcare worker at another facility). At this time, orders are not appropriate for those who are below the dotted line in Phase 1B or in phase 2 or 3. Placing an order allows the patient to schedule into an existing DH COVID-19 vaccine clinic or allows the appointment center or DH staff to assist with scheduling the patient into one of these clinics. At this point, vaccine ordered by a provider cannot be administered at an outpatient appointment, ED/urgent care visit, or inpatient stay, although we are working towards this for a future state.
Denver Cases:
*Last update on January 21, 2021
Denver Tested Positive: 53,962 (+239)
# of Persons Homelessness: 942 (+2)
 # of Persons in Long Term Care Facilities (Residents Only): 1,573 (=)
 # of Persons in Jail: 1,059 (+3)
 # of Residents in DHA Facilities: 122 (+1)
Denver Deaths: 482 (-1)
 COVID-19 related Deaths in Ancillary Care facilities: 211 (=)
 Persons Experiencing Homelessness: 9 (=)
Denver Health COVID-19 Cases:
24 patient cases
2 Persons Under Investigation (PUI's)
5 discharge yesterday / 1759 total discharges
3 Admission – 1836 total COVID-19 admissions
Colorado Hospital Totals:
Statewide # COVID-19 PUIs – 49
Statewide # COVID-19-Confirmed – 654
Statewide ICU Bed Availability (current) – 496
Statewide Med/Surgical Bed Availability (current) – 2,554
Helpful Links:
Colorado Department of Public Health and Environment – Vaccine for Coloradans
Colorado Department of Public Health and Environment Coronavirus Information
Denver Department of Public Health and Environment Coronavirus Information
Centers for Disease Control and Prevention Coronavirus Information
Please email COVID-19@dhha.org with any questions.