The Group Living Amendment passed Council with an 11-2 vote on February 8th – so, what does it do?
Allows up to 5 adults to live together in households where not all residents are related. Prior to passage, only 2 two unrelated adults were allowed to live together in a house and 4 in a duplex or apartment. Any number of related adults may live together.
Categorizes and regulates residential care facilities by size instead of by the types of services they offer. Previously, residential care rules varied according to who the facility serves (elderly residents, people experiencing homelessness, or sober living group homes for example).
Caps the number of smaller facilities serving up to 10 people in a single area to avoid overburdening neighborhoods. Expands the available land area in Denver for community corrections from about 3,210 acres primarily in industrial areas and downtown to about 19,000 acres throughout the city, primarily along commercial corridors, where there is better access to transit and jobs. CLARIFYING A MISCONCEPTION: Community corrections will still not be allowed in single-unit and two-unit zone districts, and some row house zone districts (RH-2.5).
Compromise
A former Councilperson recently reminded me that if everyone is a little mad at me about my position, then I've probably come to a good compromise. Given the nature of the opposition comments that my office received about this proposal, I think we are probably in that place.
We certainly heard from those who say that we need to keep things exactly as they are – after all, they committed their family to a community because of what the neighborhood was when they purchased their home. This amendment is a threat to that paradise.
We also certainly heard from those who said this proposal was watered down too much – if only we would maximize the purpose of the tool: affordability for all those who are coming to our beautiful city. They are struggling to find affordable ways to live in Denver and see this Council body as one that continues to hamstring each affordability effort put in front of us.
Equity
The history of Denver's land-use is similar to what happened all over our country when post-war practices pushed less desirable uses and, sadly, what was deemed to be less desirable populations into segregated areas.
Today in Denver that is what sociologists, housing experts, and equity advocates refer to as the inverted L. Neighborhoods in the north and west – where poorer people could afford to live – are also the areas where uses serving vulnerable populations were allowed to exist. Compared to neighborhoods south and east of the L, these areas in Denver lack easy access to infrastructure (bus routes, good sidewalks, light rail) or amenities (grocery stores, trees, parks, hospitals and clinics, and art venues).
Though most of us can't imagine allowing for the discriminatory housing practices that occurred before the Fair Housing Act was adopted, we are still living with the results of those horrible practices. Some constituents accused me of couching their concerns as not important or that I wrote them off by insinuating those constituents themselves are racist. Let me be very clear, I don't believe District 10 is a racist district. Most of the people who wrote to me and shared both their concerns and their opposition? I do not consider them racist. And, though I may have voted against some constituents in favor of this proposal because of equity, it does not mean I believe those constituents ground their thinking in racism.
Here's the distinction, I do believe we have to tackle historic policies that were racist because they continue today to create inequities whether we would intend for them to or not. Those who testified in favor on the night of Council (we had 2 to 1 in support) also spoke frequently of their frustrations about historic inequities that have made it much harder, and continue to make it impossible, to have a chance at building their own financial and housing security.
This is why I voted in favor of changing how the City defines residential care to the size of facilities instead of defining them by who they serve. It is also why I voted in favor of allowing community corrections facilities to expand into areas all over Denver (except single-unit, two-unit and some row house districts) rather then keep them relegated to the inverted L.
I heard from those opposed to the proposal that they were worried that their housing values would decrease if any form of group living came to their neighborhood. I do not share this same worry because even amidst a deadly pandemic, equity in homes in Denver's residential neighborhoods continues to skyrocket. This upward trend – sometimes more than doubling over the last ten years in some District 10 neighborhoods – has not kept up with income.
People who bought homes ten or more years ago, at a time when incomes were a heartier, healthier match to the cost of housing, continue to prosper while people today – whose incomes are downright paltry next to the cost of housing – simply can't break into the market at all. Many of these people tend to be younger and just want the same chance.
It used to be that the teacher who teaches your kids could live down the block or the person who runs your little local sandwich shop could afford an apartment nearby. Not anymore. Teachers and service workers want to live in the neighborhoods they work in and they are looking for creative ways to make ends meet and build their own housing stability. Group living is just one tool that we heard would help some of them be able to save up for a home of their own someday. It is one tool to help them have a fair shot at their American dream: an environmentally healthy, walkable 20-minute neighborhood instead of a forced 20-mile commuter-hood.
Why are some areas of Denver exempt?
I heard from several of you that it does not seem fair that there are still some areas of Denver that are not covered by the new Group Living amendment. You may have heard of the Chapter 59 "loophole" where in some areas of the City (about 20%) are still zoned under Former Chapter 59 (the "old" zoning code) and because of this only two unrelated adults are allowed to live together in a detached house and four in a duplex, condo or apartment. This is not a conspiracy as some have suggested. It has more to do with the need to continue to update areas of the City that were not included in Denver's Zoning Code update in 2010, such as many Planned Unit Developments, aka PUDs.
To remedy this Council President Stacie Gilmore is sponsoring a bridge amendment so that all households citywide would be regulated the same in terms of how many people can live together. City Council is expected to hold a public hearing on this text amendment to the Denver Revised Municipal Code on Monday, April 5. You can track the legislative process of this amendment on Community Planning and Development's website on Group Living.
Worried about neighborhood character
I heard that there are concerns about how residential care facilities would fit into neighborhoods — meaning design and structure, not use. I believe these concerns are already addressed through our zoning code regulations and various planning documents that guide zoning. We also have a site development team that considers how structures interact with neighborhood types and land-use infrastructure. And, we will be continuing work on residential infill — a process that doesn't have a specific time frame in mind yet but is on our horizon. That is another area where constituent input is going to be important with design considerations as it pertains to neighborhood types. All that said, if there are actual building structure/design issues that come up that could use text language that that the zoning code doesn't address, I'd be happy to entertain that.
Finally, I also heard that there was a desire to have notification regarding new residential care uses coming into a neighborhood. This proposal was not ultimately included in the amendment. I will say that, however, my office has been and remains willing to work on any concerns that arise from any neighbor conflicts. Council contracts with mediators who facilitate good neighbor agreements all the time. That work ranges from a single family home neighbor at their wits end with the folks next door who let their dogs bark all night – to an entire block concerned about an apartment building company that neglects their lawn and looks the other way when illegal behavior happens on their property.
Each of these examples could be addressed by code enforcement, but sometimes neighbors want a face-to-face attempt to hash out how they can better live next to one another. I would be happy to have my office refer any group to mediation if there are issues that come up between residential care use neighbors and their other neighbors.
Growth by default or managed growth?
When I rolled for office, District 10 constituents told me that housing affordability was their number one issue.
I heard that people recognized that our population was only going to grow so we need thoughtful means to address density. They felt as if density was happening to them, instead of being in charge of guiding Denver's density. Allowing more adults to live together is one tool that will fill bedrooms and may help ease the need to spread out and build new housing.
I heard that people were worried about the environment – spreading out and building new housing means more resources used and more cars driving back and forth to jobs. Allowing empty bedrooms to be occupied is about as infill as you can get when infill development is something we have to address, like it or not, to tackle our growing population.
I heard from people that they were worried that more in-home density meant less environmentally sound neighborhoods – that services would be taxed, more resources used up, and infrastructure overburdened. But the evidence shows the opposite. For example, take a look at this produced by the Blue Ribbon Commission on Sustainability: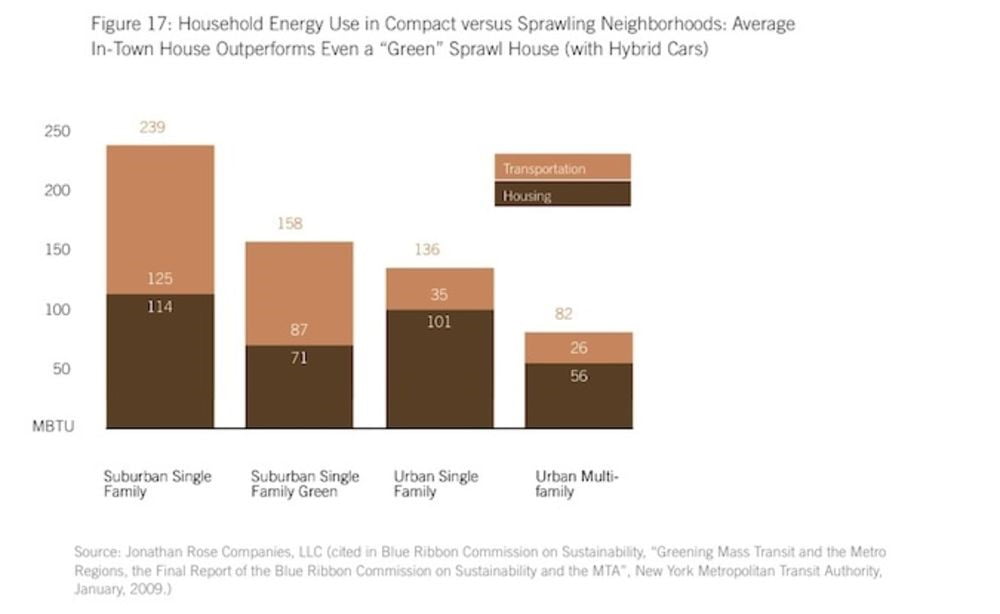 Today, I hear from people who are extremely worried about homelessness – those who are very concerned about their unhoused neighbors and those that don't want encampments to be seen on their corner. Oftentimes these people are one in the same. There is no doubt that the unhoused population has grown exponentially across the nation since the pandemic hit and Denver is no exception.
Expanding the land area to accommodate more housing programs that serve vulnerable populations (like sober living houses or community corrections) so that they have better access to transportation and services is one way to help keep people from becoming unhoused.
I ask my fellow neighbors and community members to not be driven by fear when they think of more adults living together and to not assume the worst. I ask that they assume that we are a community of hard-working adults trying to do our best in this world regardless of race, religion, and sexual orientation. With whom we choose to live, how we are able to find a reasonable solution to pay our rent/mortgage is on each of us to solve every day. In addition, we should also take pride in supporting people in our community in group or elderly homes that are doing their best to transition to a better life or finish their lives with integrity and grace.

Seventh Avenue resident
Perfect 10 Group Living survey
Before I was elected, I spoke quite a bit about how we all need access: access to housing, transportation, and representation. To that end, I chose to survey the residents of our perfect slice of the city – much like my predecessor. All the information is anonymous, and none of the information was presented at an individual level – it was meant to understand the District, not spy on any individual.
This survey resulted in about 1000 responses, the vast majority of which were from District 10. On its face, a narrow majority agreed or strongly agreed with this amendment. However, the comments showed that some of those against were opposed because this amendment, in their opinion, didn't go far enough. The comments also showed that a considerable amount of those opposed took that position because of fear of unintended consequences like parking, sanitation, and other symptoms. As has been heavily covered, we can legislate to stop those consequences from happening.
Some said they didn't want to complete the survey because of the questions I asked. They said the questions were biased. They said the questions were invasive. So, these groups decided against participating in my survey and created their own survey. That is, of course, their prerogative to go separately from the District-wide survey. But here's the deal, I was trying to cut through the misinformation and preconceptions and make sure people were thinking about the policy, not just reciting talking points. I also wanted to see if this amendment could actually be that affordability tool that CPD strives for.
That means I asked about financial stability. It meant asking about social networks. If they were stable, and their social network was stable, well then this amendment isn't for you. If you are severely cost burdened, or if your social network was housing insecure, then the amendment is meant for you.
Setting aside perceived survey bias, I'm deeply concerned about a different kind of bias that I want to talk about. It's one where people who have a good life here in Denver are genuinely frightened and feel very threatened by policies that could ease affordability obstacles. Some of the emails I received claimed that people who would want to share their homes with other unrelated adults are: dirty, unhealthy, and loud. That people who would live together this way would park on their front lawns or take up all the public parking spaces on the street in front of their home. These people would create nuisance properties and sell drugs and – I'm not kidding about this one – would clog up sewer systems.
Perfect 10 stories
One of my constituents is a single dad and a DPS teacher. He is living in a nice single-family home with a play set in the back yard, a dog, and a couple of chickens. He lives with a young couple who aren't married but are saving up for a wedding and a down payment for a home. To save up for braces for his son, he has been talking to a UC Health medical resident about renting her the fourth open bedroom in his house. Just living with the couple means he's violating code and would be if he added the other roommate to his fourth, empty bedroom.
There is a prominent older man in Cherry Creek who is facing housing insecurity but is too ashamed – or too proud – to talk about it. His wife had passed after a long illness that took a lot out of their retirement savings. He risks losing the beautiful, expensive home that he and his wife raised their kids in. He is in great mental and physical health. No one would think of him as housing insecure, but he is. His home has four bedrooms and an office space. He has a friend who lives with a college student who helps out with cooking and cleaning so he has a less expensive place to live. His friend suggested they all move in together and share the big, beautiful home.
Here's what most of my constituents tell me they want, and what I want for my constituents:
I want DPS teachers to afford to live in Denver.
I want to support a father's desire to have his son experience a backyard and a dog while growing up, even in densely packed District 10.
I want to support the medical student who might grow to love Denver and stay here, helping stave some brain drain from our City.
I want to support inter-generational partnerships – affordability for someone starting out and affordability for someone who wants to comfortably stay in his home in his twilight years.
I couldn't care less if three men choose to live together, and I don't believe it's any of my business if they are relatives or not.
I realize that oftentimes what people express they want for their City: equity, affordability, easy access to alternative infrastructure, and a great environment feels perhaps scary when those things take actual form in your own neighborhood or on your own block. After almost two years in office, I would say one of my biggest challenges as a leader has been to legislate what will be the best compromises so that we can have that kind of City to live in. It is sobering to know that the vision for our District 10 frequently comes into conflict with the reality of implementing it. I believe it is unlikely that the vision would ever be accomplished if we made these decisions block-by-block.
Now vs. the future
We heard people talk about racism throughout this process. I want to set aside the discussion about whether some are racists or not. Instead, what I see is a struggle between those who want to prepare Denver for an affordable future and those who want to preserve Denver for what it is today. What I would say, though, is that our job is to shape Denver's future.
The reality is that the secret is out: Denver is an amazing place to live. People are moving to Denver in droves, from all over the nation and beyond. My next-door neighbor is from Paris, France, and he's here for work. If we aren't intentional in our approach to our city's future, we'll become an even more unaffordable city than we already are, and we'll have even more people living in tents than we already do.
A few decades ago, part of District 10 was literally a dump. It was thanks to our leaders' decisions back then that some of the most desirable areas of our city exist today.
A few decades ago, Colfax was known for a different kind of nightlife than what exists now. Change doesn't happen overnight, but you have entrusted us to shape Denver's future long-term, not just make knee-jerk reactions to this morning's news headlines. This improvement in the quality of life on Colfax still has a ways to go, but it's definitely moving in the right direction thanks to far-sighted leadership.
This Council responsibility is as relevant today as it was back when we removed the dump or cleaned up Colfax.
We must move forward with the shaping of Denver, or risk having it shaped for us. We must use all of the tools to find solutions for our unhoused neighbors.
Yes, that means taking the huge risk of locating both Safe Outdoor Space in District 10. It was risky because it hadn't been tested in Denver, and it was risky because of the more than 1000 emails opposed to these sites.
That also means encouraging 100% affordable housing developments like at 13th and Sherman.
And, encouraging our state counterparts to relax laws that allow us to get workforce housing in every new development
And yes, it means sometimes working with market-rate developers to ensure we use every tool in our toolbox to get people out of housing insecurity.
In that shaping, we should revisit the definition of the American dream. For some, that means a white picket fence and a single-family home and getting into your car and cruising the strip on Friday nights. But others prefer multi-family buildings, and some don't own a car at all. It's time to recognize that my dream may not be your dream, but if we are going to dream, let's dream about our future. Let's dream to shape our city to make it even better for tomorrow.
Dear Members of the City Council,

I've lived in Congress Park in a single family home for 7 years. For the first 5 years, I didn't realize that two large houses on our block were group homes. I'm still not aware of the details, but I wish all the folks who are up in arms about having group homes on their block would spend some time here. It is a non-issue! For that reason and in supporting anti-racist policies, I fully support the changes being proposed to update the Group Living Rules in Denver.

Congress Park resident
Thank you & recognition
Thank you, CPD staff, and especially Andrew Webb.  Mr. Webb and CPD staff worked hard on a proposal that spanned multiple years and fielded lots of angry calls, emails, and other constituent outreach about group living.

Thank you also to the Group Living Advisory Committee.  These individuals put in hours and hours of deliberation and learning to present potential changes to Denver's code.  These volunteers were willing to expose their private lives to public scrutiny to push a conversation that has been difficult for Denver to consider for quite some time.
Thank you to all the inspectors in our city.  We're seeing some ugly stuff come out that alleging inspectors are lazy or, even worse, are willing to accept bribes.  I have no reason to believe that any of this is true, and I am sad that people would make those allegations.
Thank you to all of the amazing community neighborhood activists that came together to learn, converse and advise over this sometimes very divisive issue. It is because of you we end up with good, balanced policy even if it isn't ideal for one side or another.
Especially a big thank you to those of you who were earnest about having a frank conversation and listening to one another. Neighbors from very different parts of District 10 had some lively and helpful conversations that led to some of the changes we saw in the final group living amendment that was approved. I applaud you all for taking a deep breath and moving beyond fear and scarcity thinking.