You know what they say, hindsight is 2020.
In my case, it's Hinds' Sight.
None of us knew what 2020 had in store, but a global pandemic certainly wasn't on my mind for my first year in office.
Hinds' Sight 2020 is a look back at the challenges of 2020, and the work I've done on your behalf as your elected public servant. I stayed true to the values I was elected on: equitable access to housing, transportation, and representation. 
Annual Constituent Survey
Our physical and economic health came into question this year, and many of our priorities have shifted. Looking ahead to 2021, the Mayor's Office has reset Denver's priorities to economic recovery, homelessness, and public health. I want to hear from you how we should tackle these issues in our annual constituent survey.
Our democracy works better when we all participate. Don't hesitate to reach out to my office with your concerns. Sign up to receive my office's newsletter updates at denverperfect10.com/signup.
Housing
Made sure Denverites made a living wage.
Housing is a person's single-most important expense and is often a person's greatest expense. On November 25, 2019, I proudly voted to increase Denver's minimum wage to $15.87 by 2022. Since then, there's been increasing pressure to delay the increase. I know it's the right thing to protect the 1 in 7 Denverites who will ultimately benefit.
Exponentially increased funding to tackle homelessness.
City Council brought Initiative 2B to the voters, and all of you made this investment a reality. 2B is estimated to bring in as much as $40 million annually to tackle homelessness. Stay in the loop with our monthly homelessness blog.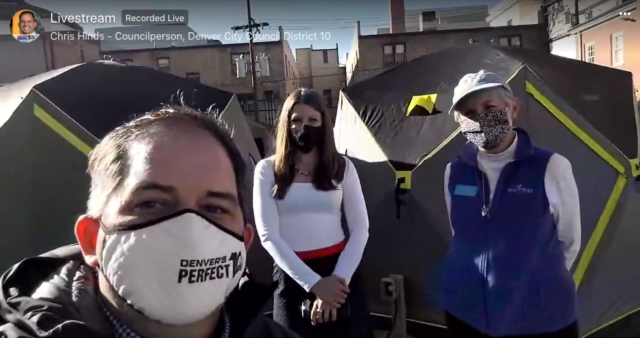 REPRESENTATION
Achieved a historic level of input on the city budget.
My colleagues and I on City Council fought hard to make sure your voices were heard in this year's budgeting process. Our efforts were reflected in the historic $5.2 million in amendments we secured from the Mayor's Office.
City Council increased public comment opportunities in 2020, from twice a month to every Council meeting. I voted to televise this portion of the meetings. I'm also proud to be the only councilmember hosting weekly livestreams to share updates from the community with you.
COVID-19
Authorized nearly $90M in emergency spending.
The vast majority of this funding, just over $50 million, went toward homeless shelters, services, and supplies. An additional $11 million was invested in providing testing sites and supplies.
Authorized $47M in Public Assistance Grants.
Distributed more than $20M in grants to small businesses, nonprofits, people who need help with rent and utilities, and out-of-work hotel and restaurant workers.
Embraced creative solutions to address a growing crisis.
Denver's shelter network already had significant limitations before the pandemic. As the number of people needing services and shelter has skyrocketed, something had to give. Emergency shelters, expanded 24/7 hours, securing 1,000 motel rooms for emergency respite, and yes, even Safe Outdoor Spaces, have been some of the ways we've gotten creative to serve Denverites in their time of need.