Shared by our partners at Denver Department of Transportation and Infrastructure (DOTI). For details about the SC CTN, please email DenverMoves@denvergov.org and put South Central network area in the subject line.
DOTI is committed to achieving a network of better bike facilities in Denver that make it more comfortable, safe, and accessible for people to ride bikes and to creating a bike network that connects people to the places they want to go. Through 2024, Denver will be focusing on three areas to both understand and prioritize multimodal concerns and implement a system of bikeways.
The project team is planning to improve how people travel by bike, by bus, by car, and on foot in South Central Denver. The planning area includes the following neighborhoods: Baker, La Alma, Lincoln Park, Capitol Hill, Alamo Placita, Country Club, City Park West, Cheeseman Park, Golden Triangle, West Washington Park, Overland, Platt Park, and Rosedale.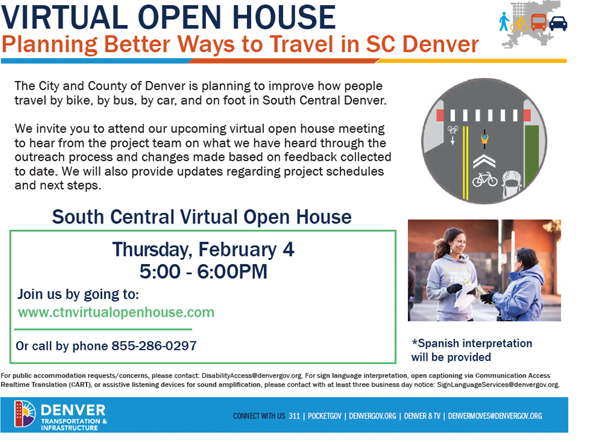 Feb. Virtual Open House
The next South Central Community Transportation Network virtual open house will be Thursday, February 4, from 5-6 pm.

During the virtual open house, the project team will share what they've heard through the outreach process and changes made based on feedback collected to date. They will also provide updates regarding new projects, schedules and next steps as some projects start being installed this year.

You can join the meeting by: