The 5280 Trail And Why I Support It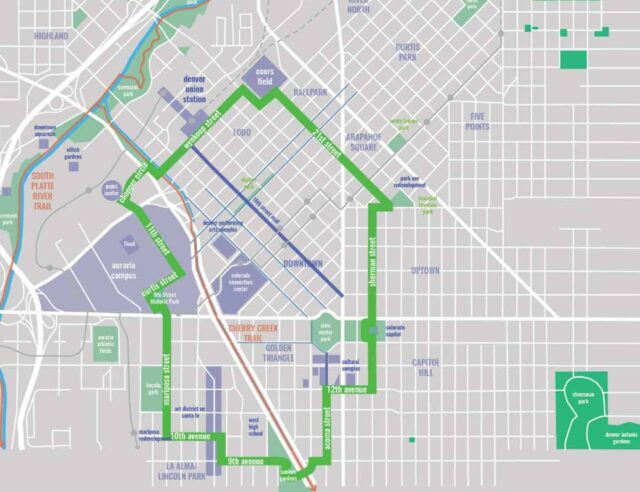 I was elected to office during the runoff election on June 4th, 2019. Between June 4th and July 15th, the day I was sworn into office, there really wasn't much for me to do. I didn't have any authority – after all, I'm still just a private citizen – and I didn't know what resources I would have available to me as the custodian of Denver's Perfect 10.
So, rather than "do nothing," I sought out additional information about the 5280 Trail. I sat in the lobby of the Webb building, asking random people if they had any ideas on who I should talk to about the Trail. My, ahem, interesting method of fact-finding paid off: one of the people I asked, Adam Perkins, is the main point of contact for the 5280 Trail. Since then, I've been asking lots of people about the Trail and how it can fit into Denver.
What is the 5280 Trail?
The Trail's vision statement:
Prioritizing PEOPLE, HEALTH, CULTURE, and NATURE, the 5280 is a new, distinctly Denver amenity, that connects many vibrant and diverse city center neighborhoods through the great urban outdoors, creating a powerful SENSE OF PLACE.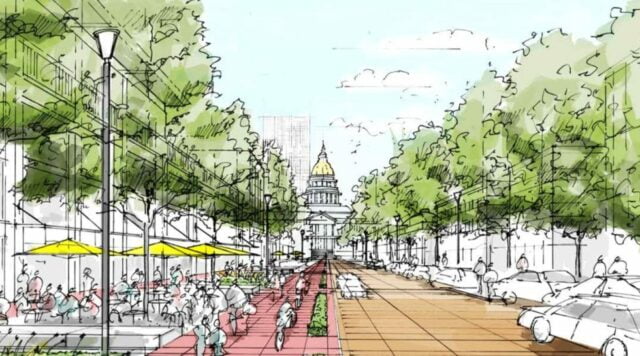 The concept of the 5280 Trail was influenced by the Indianapolis Cultural Trail. That trail was named "the biggest and boldest step by any American city" by Project for Public Spaces. With all due respect to Indianapolis, Denver has 300 days of sun, a temperate climate, and a strong culture of outdoor activities. Denver is a prime candidate for something just as big and as bold.
In addition to being in The Mile High City, the Trail itself is a 5.280 mile loop around Denver's urban core (ok, maybe 5.279, but we can round, right??). It would create a strong, non-car connection between the neighborhoods around Denver's Central Business District (and Upper Downtown).
The Trail is focused on pedestrians and cyclists. While it's probable that some will use the Trail for commuting to and from work, the goal will be to create a safe route for everyone, regardless of ability (physical ability or cycling ability) or speed. The urban design will encourage a slower pace while on the Trail itself.
The Trail will also encourage "spurs" from the main Trail. These spurs will have a few purposes. First, it will extend access to safe walking and cycling into neighborhoods adjacent to the Trail. Second, it will extend access to nearby amenities – as an example, to nearby sports arenas. Third, it will connect to other bike trails that are more focused on bike commuters so they can travel into the urban core at commuting speeds and then get around the urban core using a route safe for non-car transit.
The Indianapolis Cultural Trail has not only succeeded in connecting people to the places they love—it has also had measurable impacts on the physical, social, and economic health of Indy and its residents. In a state which, at the time, registered the eighth highest obesity rate in the country, the trail encouraged physical activity and offered opportunities for social connection that many residents had previously lacked. Beyond this, the public art on display throughout the trail has generated conversations about public art and local culture.
Why I support the 5280 Trail
The 5280 reaffirms Denver's commitment to the outdoors
I originally came to Colorado in January 2007 because a friend asked me to help on a project. I decided to stay in Colorado because of our rugged, outdoor lifestyle. I was a runner and soccer player, and it's so much easier to exercise here in Colorado – particularly in the Summer – than it is in my home state of Texas. So many other people in Perfect 10 and Denver also have a similar story.
The 5280 Trail's vision includes planting additional trees along the route as well as vegetation that is purpose-chosen to thrive along the Trail. Downtown's urban canopy is only 4% coverage, and the Trail route will help bring much needed additional trees and grass to what has increasingly become an urban core devoid of natural life.
The 5280 helps us achieve climate goals
Climate change is real. The best thing we can do as individuals – other than having fewer children – is to stop commuting by single occupant vehicles. 73% of Denverites commute to and from work by single occupant vehicle. Many are willing to take alternatives to cars, but they feel unsafe doing so in Denver's current car-centric transit system. The 5280 Trail gives people the freedom to commute safely in ways other than cars, particularly around our urban core where lots of people work and lots of people feel unsafe getting around without a car.
The 5280 helps us with fitness goals
Human bodies didn't evolve to where they are today to support our sedentary lifestyles. We continue to grow – literally and physically – as a society, and encouraging easy access to exercise will help us curb that trend. I obviously understand that not everyone can (or wants to) ride a bike, yet there's a large segment of our population who would be willing to exercise more if it were safe and readily available. This Trail gives people a welcoming environment in which to explore our city and exercise a little more.
The 5280 encourages community
Denver's current transportation network makes it hard to create community. Far too many people go from their locked home to their locked garage to their locked car to their parking garage at work to their office. There's no opportunity along that commute to interact with neighbors.
The 5280 can promote equity
Cars are expensive. In addition to the car payment itself, there's gas, maintenance, insurance, parking (at home, work, and at entertainment destinations). That's part of why nearly a third of residents in Capitol Hill don't own cars. (It probably doesn't hurt that parking is so hard to find there, too!) If the 5280 is constructed with equity as an important component, it can connect people to food and entertainment without needing a car. Rent continues to skyrocket in Denver – and we're working on that, too – and we want to help affordability in Denver by reducing necessary transit expenses in our urban core where rents are often highest.
Of course, there's a difference between "can" and "will." As long as the vision continues to prioritize equity, we can ensure it becomes a reality. I believe equity is a critical component of the 5280 Trail, and as long as I'm working on the project, equity will remain a central theme.
If you have suggestions on how to further highlight equity as a core value in the 5280 Trail, please let us know!