We just learned of a transfer of ownership application for 1076 Ogden from Excise and Licenses.  Here's the letter that was sent out to neighbors and neighborhood groups.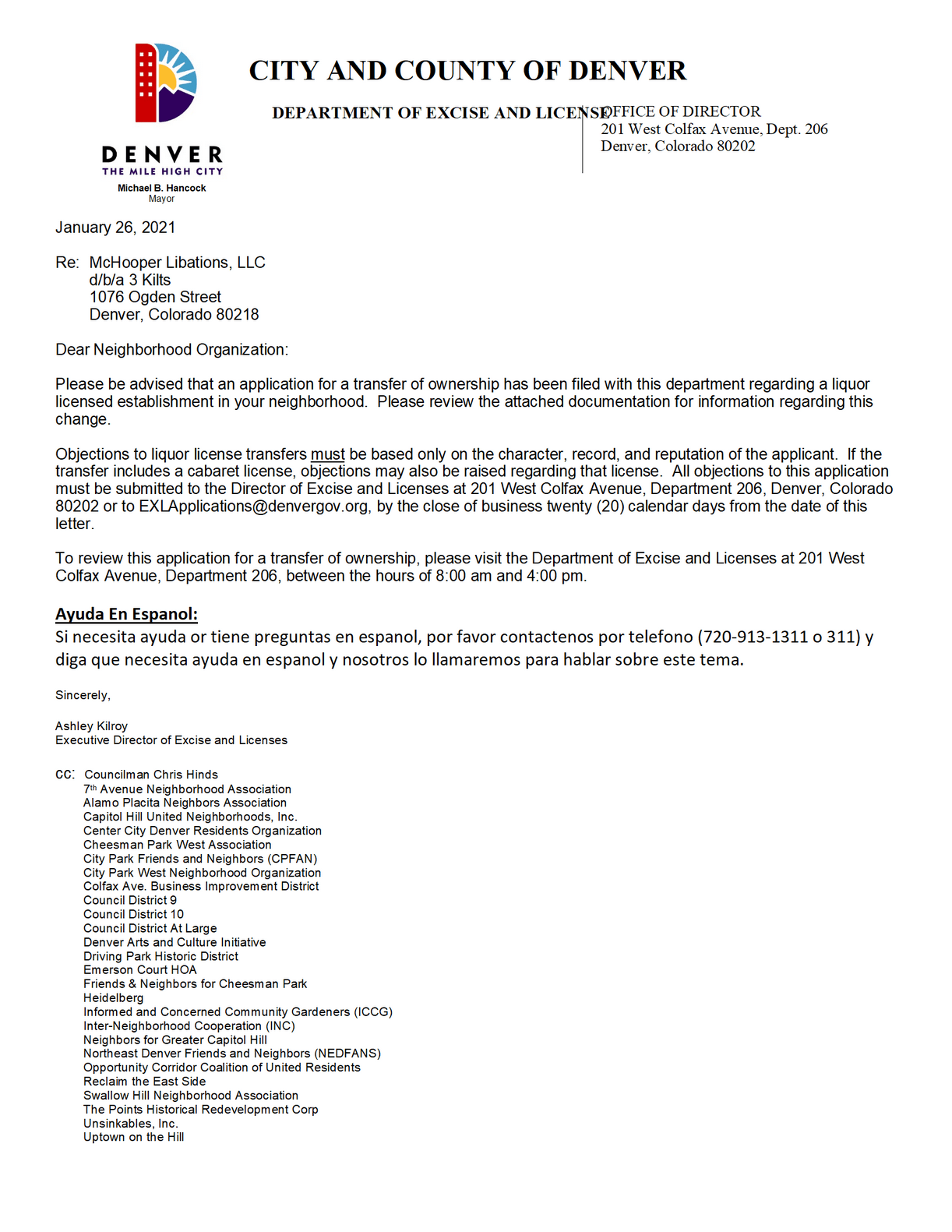 January 26, 2021
Re: McHooper Libations, LLC
d/b/a 3 Kilts
1076 Ogden Street
Denver, Colorado 80218
Dear Neighborhood Organization:
Please be advised that an application for a transfer of ownership has been filed with this department regarding a liquor licensed establishment in your neighborhood. Please review the attached documentation for information regarding this change.
Objections to liquor license transfers must be based only on the character, record, and reputation of the applicant. If the transfer includes a cabaret license, objections may also be raised regarding that license. All objections to this application must be submitted to the Director of Excise and Licenses at 201 West Colfax Avenue, Department 206, Denver, Colorado 80202 or to EXLApplications@denvergov.org, by the close of business twenty (20) calendar days from the date of this letter.
To review this application for a transfer of ownership, please visit the Department of Excise and Licenses at 201 West Colfax Avenue, Department 206, between the hours of 8:00 am and 4:00 pm.
Ayuda En Espanol:
Si necesita ayuda or tiene preguntas en espanol, por favor contactenos por telefono (720-913-1311 o 311) y diga que necesita ayuda en espanol y nosotros lo llamaremos para hablar sobre este tema.
Sincerely,
Ashley Kilroy
Executive Director of Excise and Licenses
cc: Councilman Chris Hinds
7th Avenue Neighborhood Association
Alamo Placita Neighbors Association
Capitol Hill United Neighborhoods, Inc.
Center City Denver Residents Organization
Cheesman Park West Association
City Park Friends and Neighbors (CPFAN)
City Park West Neighborhood Organization
Colfax Ave. Business Improvement District
Council District 9
Council District 10
Council District At Large
Denver Arts and Culture Initiative
Driving Park Historic District
Emerson Court HOA
Friends & Neighbors for Cheesman Park
Heidelberg
Informed and Concerned Community Gardeners (ICCG)
Inter-Neighborhood Cooperation (INC)
Neighbors for Greater Capitol Hill
Northeast Denver Friends and Neighbors (NEDFANS)
Opportunity Corridor Coalition of United Residents
Reclaim the East Side
Swallow Hill Neighborhood Association
The Points Historical Redevelopment Corp
Unsinkables, Inc.
Uptown on the Hill